By Anita Garner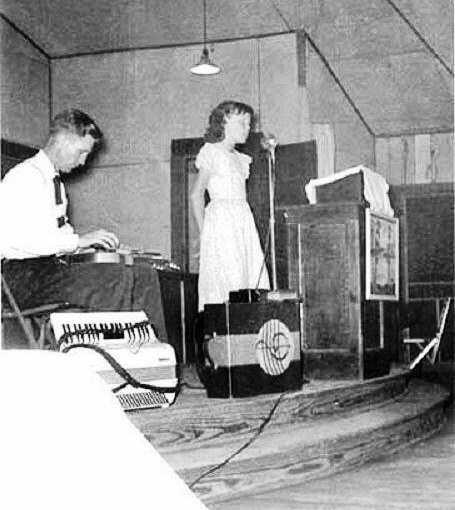 Brother Ray Jones and Nita Faye 1950's
They had me singing on the radio in Columbus Georgia at the age of 3.  No adjustable microphone.  I stood on chairs or sometimes boxes or crates stacked up in front of a tall boom microphone. The mic faced the disc jockey/announcer/sometimes station owner operating the controls on the other side of the glass.
By the time I was 7 or 8, Daddy chose a new repertoire for me, deciding which songs would help him put across the message he was about to preach.  He taught me to sing  one of his favorites, a song with dramatic lyrics and a big buildup.  From the start it didn't feel like something I'd ask a little girl to sing, but I performed it for years because he asked me to.  In this picture from the 1950s I'm singing "Then Jesus Came."  Daddy's playing steel guitar over there beside me, every now and then saying "Yes Lord" the way people in our churches worshipped out loud.
I didn't get the full story told in this song until I heard George Beverly Shea sing it on one of Billy Graham's early radio shows.  Then I thought, that's how it's supposed to sound and announced to Daddy I didn't want to sing it anymore.
Here's a version I like. This is Larry Wayne Morbitt, singing at a Gaither Gospel show. Larry toured with Phantom of the Opera and to my mind, his is the voice this story requires.
Look closely at the front of the pulpit in the picture.  Mother had just completed one of her chalk drawings (See previous blog) which would be auctioned off at the end of the service.
******