By Anita Garner
Broadcasters are some of the most talented people I know.  They're doing their radio and television stuff, then a whole bunch more.  Standup comedy, voicing characters in cartoons, writing plays and movies, acting in them, producing and directing, singing and writing songs and playing instruments, painting pictures, writing newspaper columns and stories and books and on and on.
I'm in awe of the variety of talent among my colleagues, and after years of attending their performances and reading their writing you'd think I'd be used to it, but once in a while there's another sweet surprise.
I met Allan Hotlen in San Francisco in the 80's when he was Program Director at KSFO (studios in the beautiful Fairmont Hotel. Sigh.)  We talked about doing something together.  I was living on the slope-y part of Green Street between North Beach and Russian Hill, floating all over town, soaking up a life I loved, in talks with KOIT radio (studios on beautiful Maiden Lane. Sigh) about doing a show for them.
Before either KSFO or KOIT could happen, Gene Autry's Golden West Broadcasting sold KSFO and it would be "going in another direction." KBIG Los Angeles (sister station of KOIT) made me an offer I thought I'd better not refuse.  Allan moved away.  I went to L.A.
Years later, I was producing and hosting Something Special, a syndicated show, and choosing songs for a Christmas special when I came across  Christmas Isn't Christmas Without You, a song I loved that wasn't played often enough. The composer listed was Allan Hotlen.  With two l's. Could this be radio Allan I'd met in The City By The Bay?
It was.  He was then across town, programming a Los Angeles radio station.   Yes, he said, he did write that song  with Peter DeAngelis.  I asked if he'd record an introduction for the Christmas special and he did.
This year, listening to Christmas music, I played his song and started to click over to Facebook to say hello, then decided to say hello this way, right here.  So, hello dear Allan.  Thank you for years of good radio and for this beautiful song.
Click the picture to play the song.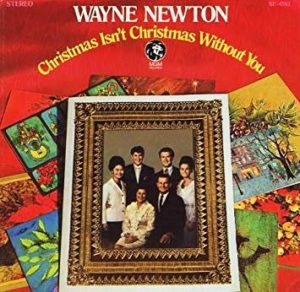 "Christmas Isn't Christmas Without You"
Written by Allan Hotlen
Sung by Wayne Newton