By Anita Garner
Listen to blog with music here.
Those were the days, weren't they?  In memory, they're golden. We also want to know about a colleague's passing, comfort each other about health issues, but that can also occupy every conversation.
A  friend and colleague, Don Barrett, is Los Angeles radio's teller of tales, and often our prophet, at www.laradio.com. He's had several careers with contacts ranging far and wide, and he's in touch with multitudes of people he knows in movies and broadcasting. Don's our resource when we need to find someone.
But Don has a fifteen minute nostalgia rule and then he wants to know about today. Are you still on the beach? (In radio talk, being out of work is being "on the beach." I don't know why.) Do you have plans? He'd rather hear about right now.  What are you doing?  Where?  How do you feel about it?
Radio and television and newspaper and all manner of media ruled our careers for decades, creating exciting relationships, and then when that part of life moves on, there's a desire to remember when, with groups we once worked with. I like Facebook for that.  And emails. But I also respect Don's approach to staying in touch with what's happening now.
Music this week is "Moon River." Chris Whiteman on guitar.
---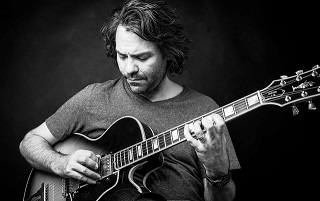 Chris plays "Moon River" on his 1959 Gibson ES-125T
https://www.youtube.com/watch?v=XjBXNTW5hb4
And more mighty fine listening from Chris here.
Subscribe to Chris' You Tube channel here.