By Anita Garner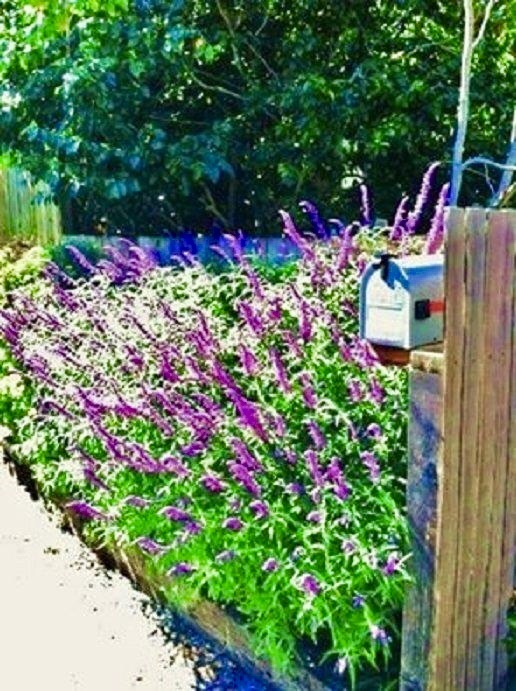 This is my favorite welcome home from anyplace I've lived.  It's Mexican Sage gone wild at the edge of my driveway in Mill Valley, CA.   The sage loved that spot and I loved the sage.
I wonder if I'm the only person who keeps photos of favorite bits and pieces of houses on my phone. Not in a sad way.  I'm just strongly attracted to gates, mailboxes, driveways, front doors, entryways.
Mailboxes.  Old tin ones on a wood post like this one.  Or old wood formed into a little house on a post. I like to visit neighborhoods in any town and soak up all the ways houses say hello.
I'm working on a new  novel and as the chapters unfold, the house details become more important.  While I've been telling the story, an old house has become almost the main character, requiring me to learn things about home repair in order to add realistic conversations about what needs fixing.
I have a friend, a music producer by trade, and a builder of everything his home needs.  Last week I drew him a sketch of a repair needed in my fictional home.  Took a picture, texted it to him in Nashville, asking for some HGTV talk, what a construction person might say about the repair.  Back came some sentences that fit perfectly.
I'm now so attached to my fictional house, I want to live in it. By the time the manuscript becomes a book, the front door will be yellow and the driveway will be trimmed in Mexican Sage to match my favorite welcome home above.
******