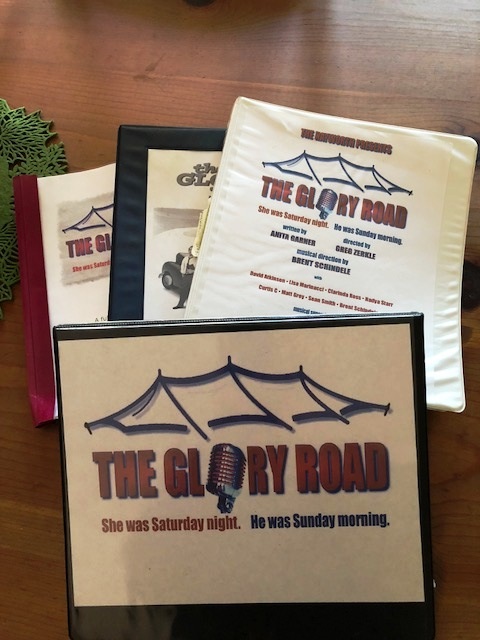 Here's how The Glory Road book became a play first. I began writing the book years ago, put it aside and turned to short stories. A Los Angeles broadcast buddy, Don Barrett, introduced me to estimable literary agent, Carol Schild, who suggested I make the stories into a play.  Entertaining friends got together and we put on a show.
Multiple talents made up the casts, offering suggestions all along. There were revisions and more revisions, all valuable lessons for a first-time playwright.  I was new to it.  They weren't.
Both directors, David Atkinson and Greg (North) Zerkle, (accomplished actors and directors – and boy can they sing!) are friends I met at church in Los Angeles.  The casts for each show started in our congregation and kept extending out to performing friends of friends.   The church we had in common was Little Brown Church in Studio City which grew into Church Of The Valley, Van Nuys.  These two congregations were (and still are) populated with singers and musicians and dancers and writers and actors and radio and television and movie and Broadway babies.
I keep rewrite notes attached to each of these script versions in the picture above. Once the new book is launched, I hope to see The Glory  Road onstage again, full throttle, lots of music and our show's Southern Gospel quartet in matching jackets, beautiful harmony, Ray and Fern and their big love story and big conflicts.
Here's a version of the song we opened with onstage. Our quartets rocked! Written in the 1950's by Lee Roy Abernathy, this version of "He's A Personal Savior" is performed by the Gaither Vocal Band.
Bonus – another Lee Roy Abernathy song he's most famous for.  Performed here by The Blackwood Brothers. Originally titled "A Wonderful Time Up There," it quickly became known as "Gospel Boogie." This one's made for a bass singer.  This version is by Brian Free & Assurance.
https://www.youtube.com/watch?v=jb0PDbCT3TY