By Anita Garner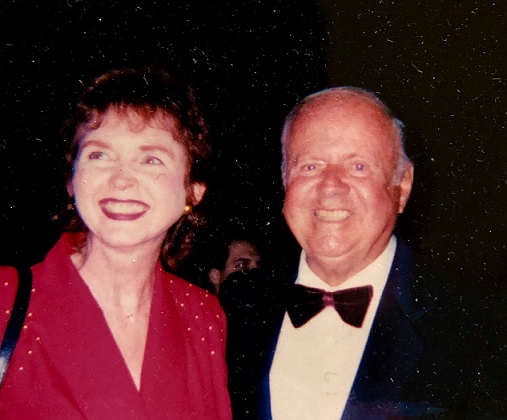 With Dick Van Patten at a Hollywood charity event
In 1998 I mentioned to my friend, Barney Martin that I was working with Dick Van Patten on a project.  Barney had worked with him in a movie and a couple of TV shows and said, "You're gonna love him."
The event would be a big dinner hosted by a charity to honor a major donor.  I was hired by the organization to write a speech for the celebrity presenter.  The donor was a man known for his difficult personality, but Dick had made a commitment to the cause so he agreed to deliver the speech.
Of course such a speech should be filled with warmth and I'd have to rely on Dick for that.  Other celebrities had already been contacted and declined to participate. It didn't feel strictly coincidental that many  show biz people invited to speak were all of a sudden otherwise engaged.  Dick would carry the program.
We met several times at the usual Studio City chat spots, Du-par's, Nat's Early Bite, Jerry's Famous, Art's and Sportsmen's Lodge. A steady stream of performers stopped by our table to schmooze and share stories about Dick's own fascinating family. Everyone in town seemed to know and love the Van Pattens. Dick promised me, "We'll have you over for dinner soon.  Pat feeds everybody."
So a lot of laughter at our meetings but not much I could use to enhance the reputation of the recipient.  Dick told me not to worry about it, just write down anything and he'd take it from there.   But I did worry.  He was doing a favor for a cause he believed in.  I was being paid and I was meant to do the heavy lifting and come up with good things to say. I made some notes on index cards about the donor's purported good works.
The big night came and Dick and I arrived together, walked the red carpet, took our seats at a table up front, ate dinner, then he was introduced.  I handed him our notes.
He bounced up onstage, greeted everyone and acknowledged a wave of applause.  He glanced at the note cards only once, winked at me and skillfully moved into telling entertaining stories.  He shared charming anecdotes that vaguely included the recipient without resorting to outright falsehoods.  You could enjoy the evening's entertainment without realizing there was very little said about the honoree.
Most people present would leave the ballroom that night without ever knowing which end of a donkey the big donor represented, because of the delightful performance by Mr. Nice Guy. Classy.
******