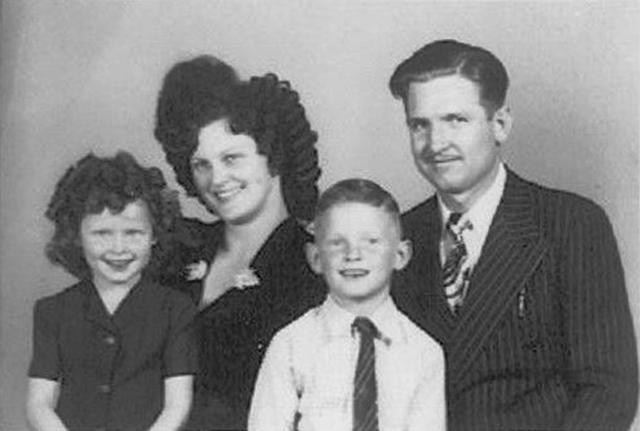 See those rhinestone clips on Mother's dress in the picture? She snuck them into the studio for this 1940's publicity photo of "The Joneses" and they weren't seen again.  She  promised Daddy she'd give up makeup and jewelry when they took a church to pastor but her love of all things shiny remained undiminished.
Gramma K told Leslie Ray and me Mother's necklines were a lot lower before she found Jesus.  Gramma never forgave her daughter for leaving a promising music career to follow a country preacher around the South.
Here's a rhinestone excerpt from my  book, The Glory Road.
– – – – –
Glendale, California 1955
When we set out on this trip it was with a dual purpose. First, because Gramma K lived in California, we visited when we could, and second (or first, depending on who was making the list) Mother would be performing . She was booked on the bill with several Country and Southern Gospel stars at El Monte Legion Stadium, where Cliffie Stone broadcast his Hometown Jamboree.
Daddy said yes to the show, even though it was on television because his wife was using her music to testify.  And also because he was crazy about her.  Since they'd found Jesus, their agreement was that no matter where she sang she would carry forth the banner, witnessing by singing only gospel. She'd already stepped in front of cameras when she sang over at Brother Daly's Tabernacle in New Orleans.
Raising his wife required all the reassurances Daddy could muster and so far it was taking up a good deal of his time on this trip.  Gramma was thrilled her daughter would be singing on television in California but no amount of church music was going to be enough for her. Gramma said gospel would never make Mother famous.
Mother was wound up tight about the TV show and that was no small problem. She was high-strung during the best of times.  Added pressure sent her spinning off. Her latest concern on this trip seemed to be what to wear.
Since becoming a preacher's wife, Mother's sweetheart necklines were raised a bit higher.  She brought out one of the dresses under consideration to show Gramma and hung it on the back of the door.  Too plain for television,  said Gramma, who plunged into a jewelry box on her vanity table and pulled out rhinestone clips.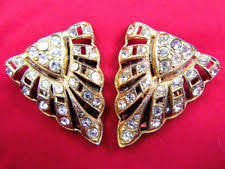 The two of them continued picking through all the sparkle. Mother grabbed an especially large piece and attached it to her dress, using the clip to gather the fabric downward to a greater dip. She looked in the mirror and said,
"Could you just D-I-E!"
Gramma held out matching earrings.  Big earrings with so many stones they would tax the earlobes of a timid woman. As soon as she saw the earrings in Gramma's hand, Mother snapped,
"Mother! You know I can't wear jewelry.  I gave Raymond my word."
"You're not dressing for church right now. You're singing on a program where a lot of stars wear custom outfits. I guaran-damn-teeya every woman there will have on something like this."
There was no denying how much Mother wanted to wear them. Here was my thinking.  What I'd have done in her place.  I'd have taken that jewelry with me and clipped them on just before singing.  Then anybody who wanted to say something about it could just go ahead.  It'd be too late.  Mother didn't do that.
– – – – –
Mother often sang this with gospel quartets backing her.
'I Am A Pilgrim And A Stranger"
Fern Jones with the Sunshine Boys from the album
Fern Jones/The Glory Road (Numero Group)
This version was recently featured on NBC's new show, AP Bio.