By Anita Garner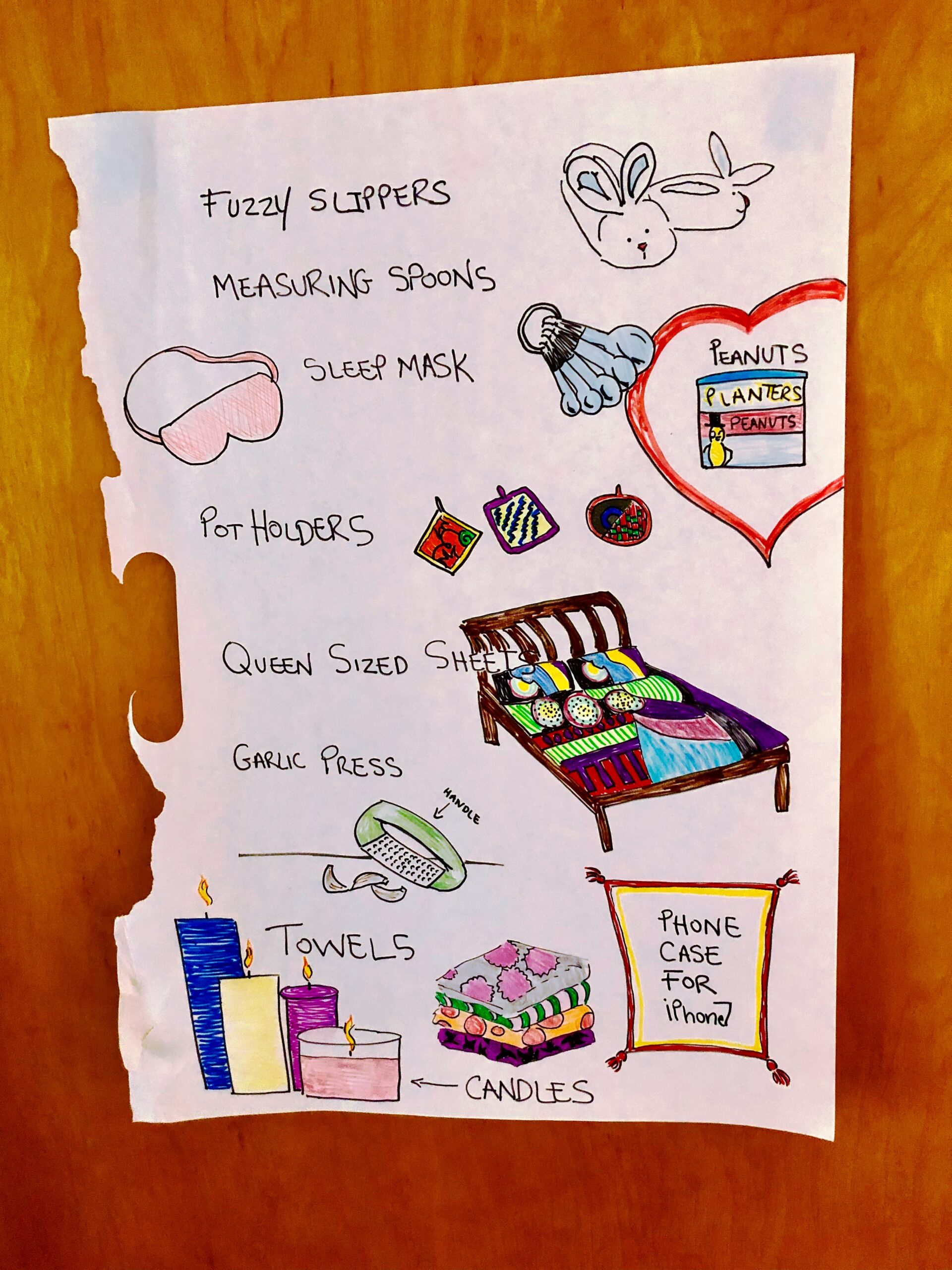 My daughter's illustrated birthday wish list.
Found on my office door

We're a small family in this house.  Me.  Daughter, Cathleen. The Grand, Caedan Ray. Two out of  three have birthdays during the last quarter of the year.  Cath's is this month.  Caedan Ray will have her Sweet Sixteen in November.  Then, of course, it's Holiday Central.
Two of us do the planning and shopping for the celebrant.  Weeks in advance we're nagging for  THE LIST.  Also, we need to know preferences about the day itself.  No party gathering this time but the  birthday girl chooses her dinner and what kind of cake she wants.
Cath did her list proud this year. It's cheery and colorful and detailed. Do we attribute this to pandemic boredom? Or maybe she really, really wants only that specific kind of garlic press. And peanuts?  She had to put them on a list?  We know about her love for peanuts.
No, we don't plan to get potholders for her birthday, but we get the hint that favorite old threadbare potholders need to be replaced once in a while. She does most of the cooking here and deserves consideration.
No sense teasing about the bunny slippers.  She really means it.  She loves those big slippers with animals on them, plush and heavy and I don't even know how she walks in them.  The two pups, Charlie Brown and Benny, share her fondness for them.  Every day before Cath comes home from work, at least one slipper is dragged to the entryway to wait by the front door. She goes through slippers pretty quickly with the help of doggies dragging them.
Of course she won't be getting all these things because shoppers also like to choose.  There are three bossy women here and it's not logical to think you could make up your mind all by yourself about your own birthday celebration and have all your wishes come true.
The two shoppers will also buy things that aren't requested.  Surprise!  Bet you didn't even know how much you'd love this thing we decided to get for you.  Maybe Santa will bring the rest.  Or not.  The Or Not Factor is always a consideration when bossy women get together.
******