By Anita Garner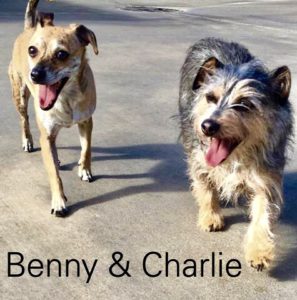 These aren't my dogs. They belong to my daughter, Cathleen and granddaughter, Caedan Ray, and I'm babysitting them.
They're both rescues. I believe Charlie's some kind of terrier mixed with other stuff.  Benny's chihuahua and something else. I can testify that Benny is mostly mouth.  You look at this tiny body and wonder where does that big sound come from?
Charlie Brown came from a shelter years ago. She was named by four-year-old Caedan at Christmas time.  Benny came later and Cath insisted it was her turn to choose the name. If you know how much Cath loves Benecio del Toro, there's where you'll find the answer.
I'm a writer working in an office in the far corner of the house.  I don't speak dog as well as Cath and Caedan do.  Here's a glimpse of my average work day.  This is not an exaggeration.  Don't even ask about the day the garbage trucks come, three different trucks for three different bins.
Every time you see the word "Benny" below, please know these are very loud barks.  Charlie has a small woof, but is equally insistent about pawing the leg of the person in the desk chair.
Benny – MAIL!
I get up and check the mailbox.  Nope.
Benny:  I MEANT MAIL TRUCK IS JUST AROUND THE CORNER AND MIGHT BE HERE SOON!
Charlie:  Paw paw paw on the knee.
Me:  What?  Do you need outside?  I open the door.  Nobody goes out.
Benny: WOMAN WITH A STROLLER OUTSIDE!
Me.  Benny, please be quiet.
Charlie: Paw Paw Paw
Me:  Do you need outside?  Up again and open the door.  Nope, she was asking for a friend.  It's Benny who needs out and gets Charlie to ask me.  Benny goes out and immediately runs back in to say,
Benny: BOY ON A SKATEBOARD!
Me:  Please be quiet.
Benny: DOG WALKING BY!  WAIT!  IT'S TWO DOGS AND A PERSON!
Me.  Benny, stop.
Charlie: Paw paw paw on the knee
Me:  You don't need out.  Benny doesn't need out.  The mailman isn't here.  It's okay for other people to walk around the neighborhood.  WHAT?
Charlie: Skips out to the kitchen.  Woofs by the fridge.  Translation:  Do we have any more of those tiny carrots in the veggie crisper?
Me:  Here ya go, Charles.  Here ya go, Ben. Good doggies.
Even Pinocchio would be impressed by the number of whoppers people tell their dogs.
*****