By Anita Garner
It's okay to stare in hotel lobbies.  Everybody does it.  At Christmas time, hotels in my favorite city will knock your socks off.
When I'm a guest, some people upstairs are having room service coffee, I'm in the lobby with my cup, because I love it there.  For this list, it's San Francisco. I've stayed in all these places but you don't have to be a guest to enjoy them.  I also don't need a city in order to have a good long Christmas gawk. If I'm in a tiny town, I find me an inn. If I'm in the country, I take a day to head to the nearest hostelry that sparkles.
In The City By The Bay , if you drive, park it. Repeat – park the car. Don't even think about moving it. There are plenty of ways to get around without spending the day looking for elusive parking spots. Coming in from the ferries, visitors hop off and walk across the Embarcadero to the Hyatt Regency.
The Hyatt anchors a festive complex at Christmas with an ice skating rink  outside and a lobby with a view. There's music.  There's plenty to sip.  A couple of steps away are four skyscrapers, Embarcadero Center, each of them outlined top to bottom with lights, forming a unique shopping place.
Ice skating outside the Hyatt, looking across at Ferry Building and Bay Bridge
Over to Union Square and the St. Francis.  You'll be greeted by their Beefeater doormen, who'll put on an elegant show finding you a cab. Every year their chefs outdo themselves creating bigger and fancier gingerbread houses – castles even – smack in the middle of the lobby.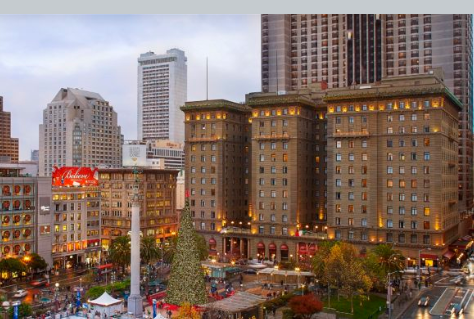 St. Francis Hotel San Francisco
Head out and walk around Union Square from there.  This could easily take several days, but do your Christmas best to see it.  Macy's windows are justifiably famous, a don't-miss San Francisco tradition.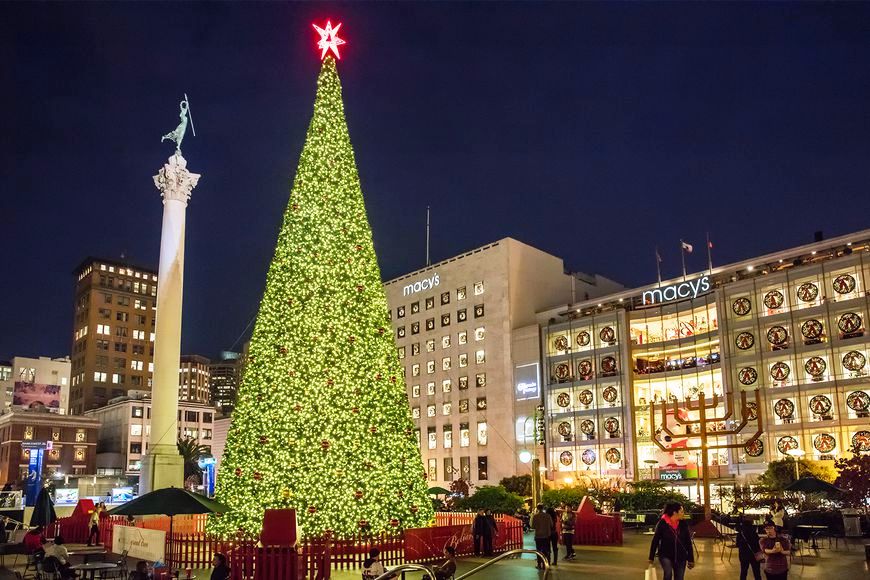 Union Square looking at Macy's
Cross over to Neiman Marcus to see their enormous tree. When they bought the old City of Paris store, they promised to preserve its several-stories-tall rotunda and they did.  The tree's so big you'll need to look at it from different angles, inside and out.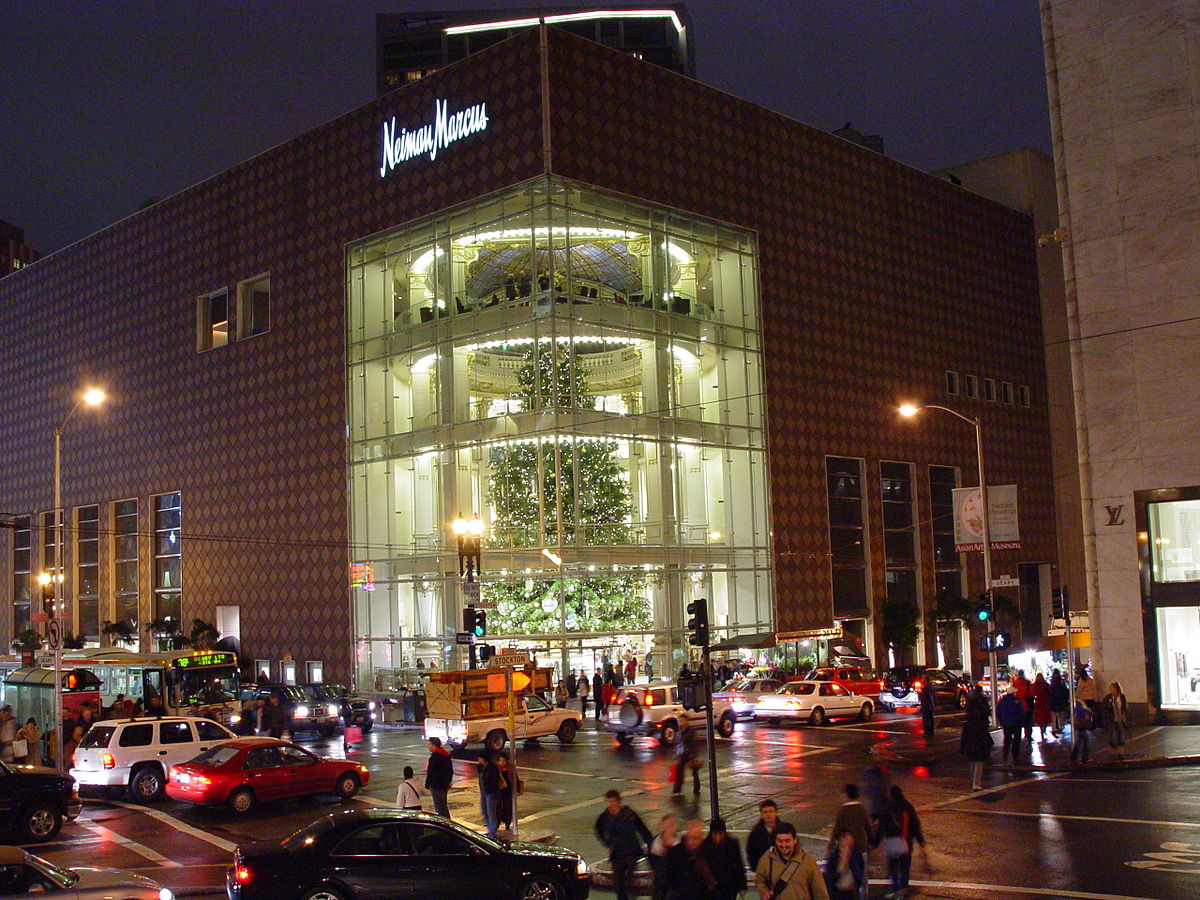 Neiman Marcus Rotunda Tree
When you can tear yourself away from Union Square, up to Nob Hill you go, cable cars clanging.  There's not a more Christmassy sound. Top of the hill, across the street from each other are the Mark Hopkins and the Fairmont.
When I didn't live in The City, I stayed at the Mark.  You get started at a place and they say hello like they mean it and as a woman traveling alone, I always appreciated the manager popping out from behind a desk to walk me to the elevator, then to my room.  Pull up in that courtyard, someone whisks your car away and you won't need to get it out again.  The cable car runs right by. That was my homey place for years, and oh my, the lobby.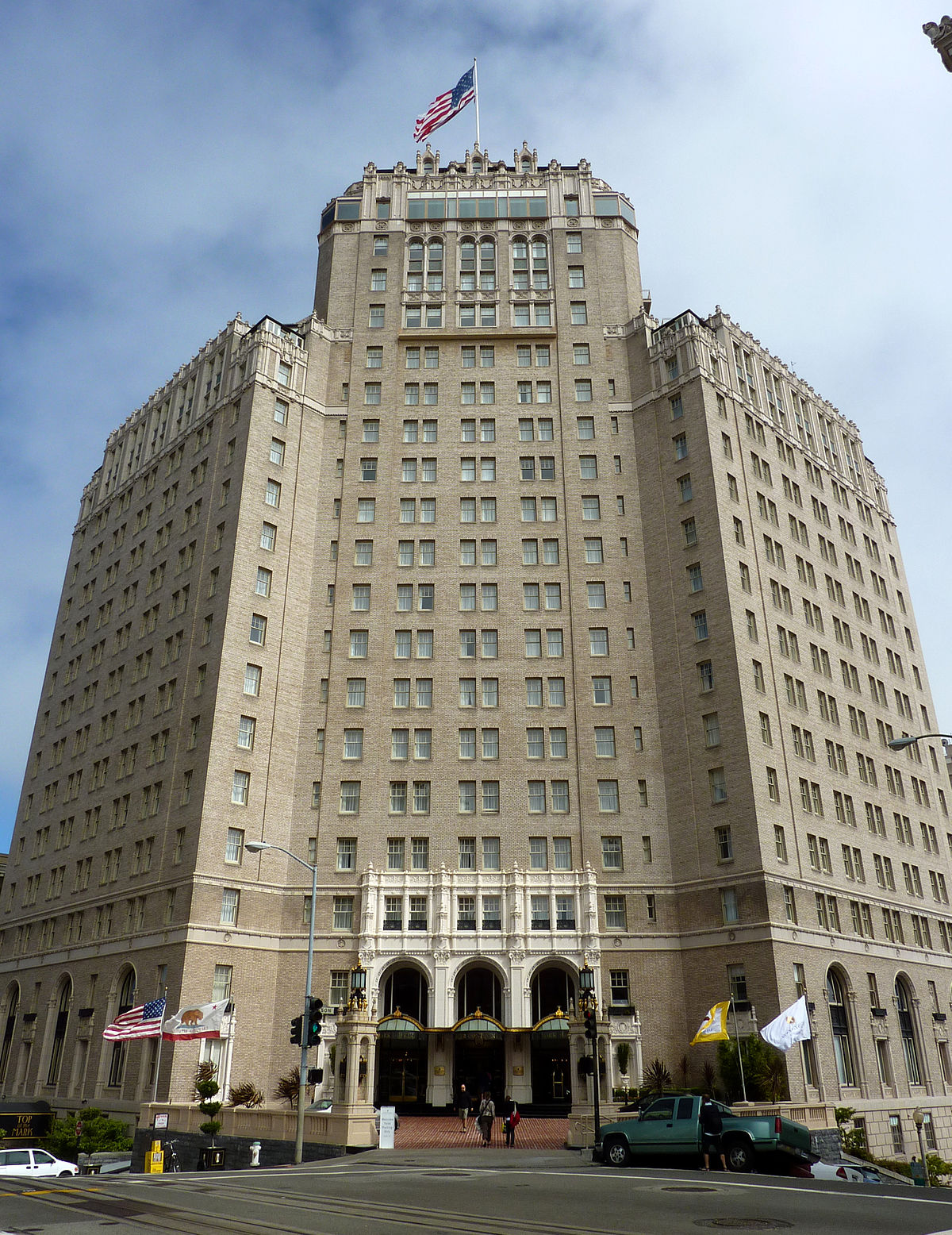 Mark Hopkins Hotel San Francisco
Across the street at the Fairmont, the king/queen of gingerbread houses stands two stories tall, and they serve tea inside it.  Oh yes they do. Any time of year the lobby at the Fairmont is festive. It's a congenial place.
One more stop on the hotel tour – back from Nob Hill to The Palace Hotel.  During carriage days, guests pulled up and were ushered inside to luxury while someone took their horses away for a stay. Today the former carriage entrance is The Garden Court.  It's indescribable all year and all year you'll need reservations for brunch, but please don't miss the gawking opportunity. Christmas at Garden Court is another layer of magic.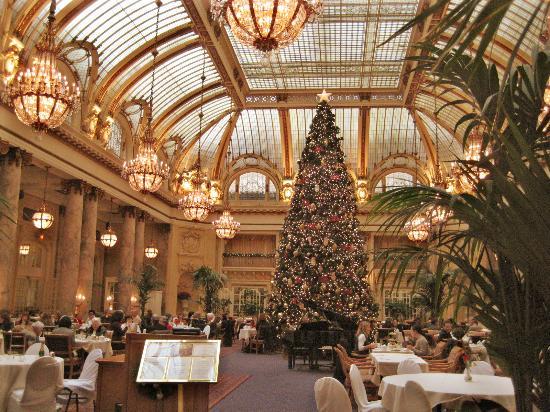 Garden Court at The Palace Hotel
Wherever you are, I hope this season you'll get yourself into a lobby near you and sit a while.  Sip something.  Listen to the music.  Watch the happy people.  Gawk.
– – – –
Christmas music for the trip.  Chris Whiteman on guitar.  Right now I'm listening to Chris play "Have Yourself A Merry Little Christmas."  Much more from Chris at  his YouTube channel.