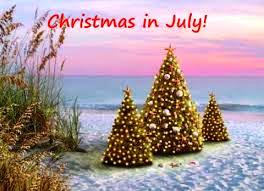 As a confirmed winter-lover, I'm already enchanted with everything about December.  No gilding necessary. But hot weather for a long stretch makes me wonder if autumn will ever arrive again.  Here comes Hallmark with their annual tradition  – Christmas movies in the summer.  This year they're calling it *Gold Crown Christmas.  *Turner Classic Movies also has the holiday spirit.
Here on the warm West Coast, we're planning our own (very) small Christmas In July celebration.  Decorations: A tiny, battery-operated tabletop tree already arrived from eBay.  Assembly time, one minute. Supper: Each of us is choosing one dish we love most from Christmas Past.  There's a strong possibility our meal will consist entirely of carbs.
Gifts: Spending limit $5.  That's ONE gift to buy for under $5 and we'll draw numbers to see who gets which. I see myself at Target at that department in front of the store where grandkids linger and items run about $1 to $3.99.
The Grand, newly teen-aged and busy with her rock-star crushes, asked if her mom ever had a crush on an old guy? Yes she did, Bing Crosby and Fred Astaire, among others. This Christmas-In-July, The Daughter plans to introduce The Grand to Bing, starting our afternoon movie watching with White Christmas.
*Heads up – Hallmark kicks off on June 29th in case you're recording, with movies too numerous to list. 
*Turner Classic Movies has Christmas in Connecticut on July 4th, Holiday Inn on the 5th and Meet Me In St. Louis on the 17th.
White Christmas is on Netflix anytime.