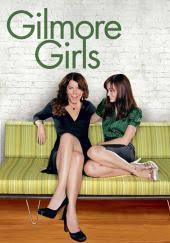 We're watching Gilmore Girls again.  And again.  The youngest person in the house is now exactly the right age to find Lorelai and Rory fascinating.  Everything about their relationship, their town, their troubles and triumphs, their fast-talking search for wisdom – all of it  – watched and discussed right here.
Writers/producers, Amy Sherman-Palladino and Daniel Palladino are creative past any point I can imagine.  Because of the quirky charm of Gilmore Girls (now available on Netflix) I followed them to their next shows, Bunheads (haven't found it streaming yet) and The Marvelous Mrs. Maisel on Amazon.
When my blogging buddy, Dave Williams and I were both on the radio in Los Angeles, he spoke often of his devotion to the show. I came to it later thinking, if Dave's so crazy about this, I'll give it a try.
Now, thanks to the magic of streaming, we have the opportunity to re-visit the town of Stars Hollow and share interesting conversations at home with the resident teen.